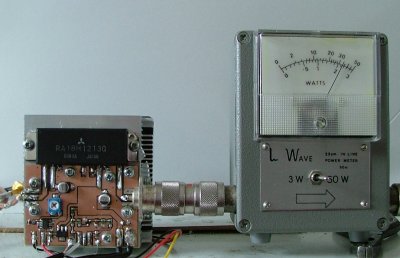 Photo shows prototype generating >30W when driven from 50mW source, see the data sheet for maximum ratings
23cm 18W ATV Power amplifier
Features

18W output (recommended but 30W possible) for 50mW input
Possible to use for SSB, gives approx 18W linear output
Frequency 1240 - 1300MHz
Drive direct from Comtech module
13.8V operation @ 7.5A typical
+ and - PTT
Reverse polarity protection
Adjustable output power (1 to 30W)
Small size, possible to fit in 80 x 80 x 80mm cube including heatsink!
Device is Mitsubishi RA18H1213G - see data sheet for full ratings etc. Data sheet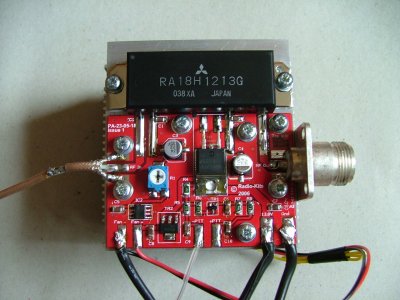 Built PCB assembled on to Akasa AK-860 heatsink (not supplied with kit), click for larger view.
Please note that this new module will only perform to expectation when installed on a purpose designed PCB, some builders are using a PCB previously designed for the bipolar modules (M57762 etc.). Users of these PCBs may find low output power or in extreme cases instability and device failure.
Although advocated elsewhere on the net I wouldn't recommend filing the back of the module flat (its manufactured with a depression), this can lead to the substrate inside the module cracking.
Download:
Construction document
PCB design - print from Acrobat without any scaling
Steve G6ALU